Amano Trattoria is a new Italian restaurant from Open Concept Hospitality, the team behind Amano Italian Kitchen. Set in Old South, Amano Trattoria feels like a sophisticated older sibling to its sister restaurant, which has locations in Union Station and Newmarket. 
In contrast to Amano Italian Kitchen's bright, fast-casual atmosphere, Amano Trattoria's vibe is moodier and more intimate — more suited to lingering over a few glasses of wine, rather than gobbling up a plate of pasta before hopping on a train at Union. 
The Food
Amano Trattoria brings a similar approach to Italian cuisine as Amano Italian Kitchen, according to co-owner and chef Michael Angeloni, who says the loose slogan for both concepts is "inspired by our heritage but not defined by it." He says the restaurant aims to highlight classic Italian fare, but with a playful, modern approach that draws on local Ontario ingredients.    
The assaggini section of the menu includes small bites like these crispy arancini with pear, smoked provolone, burnt honey and rosemary, topped with indulgent hunks of bacon.
The Tuscan crostini sees charred toasts layered with creamy chicken liver, pickled pearl onions and balsamic agro dolce.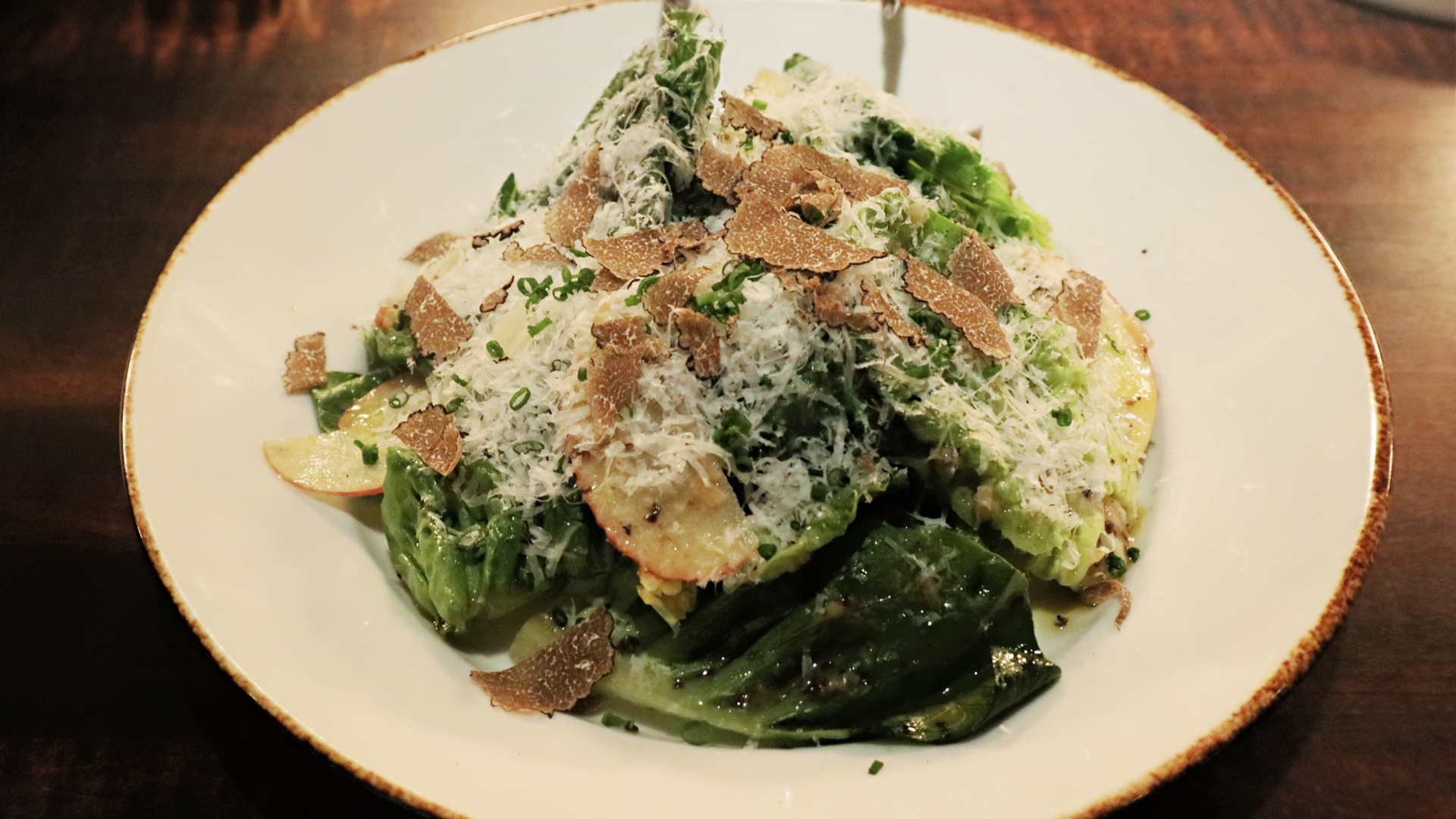 The Truffle Salad features baby gem lettuce tossed with truffle vinaigrette, aged pecorino and chives (and some extra truffle shavings for good measure). 
These delicate strips of beef carpaccio are with drizzled hazelnut emulsion and red wine, and finished with arugula, Parmesan and mushrooms.
Pasta, like this agnolotti with roasted squash, amaretti, Parmesan and fried sage, is made in-house. "It's actually the dish that got me these restaurants," says Angeloni. It was the first thing that I cooked for our partners. That's what sold them on me."
The menu includes a variety of pinsa, which Angeloni describes as an ancient Roman style of pizza. "Essentially, it's bread with toppings on it," he says. Amano Trattoria's dough is made in-house from a natural sourdough starter and fermented for two days. The result is a light, airy base that doesn't leave you feeling as weighed down as a traditional slice of pizza. This Funghi pinsa is topped with taleggio cheese, Yukon gold potato and roasted mushroom.
The tender pork shoulder is brined, cooked sous-vide and finally grilled. It's served with braised swiss chard, cauliflower puree and apple mostarda.
This simple side of rapini gets a spicy kick from bomba, a Calabrian chile paste.
Desserts are a mix of classics and others that branch out from the Italian theme, such as this pavlova with lemon curd, blueberry compote and chantilly cream.
The Drinks
The cocktail menu is anchored by several variations on staple Italian cocktail, the negroni.
The Cynar Negroni, for example, features Ungava gin, Cynar, vermouth and gentian liqueur. 
There are also good-sized lists of sparkling, white, red, and rose wines, with a focus (unsurprisingly) on Italian bottles. The drinks menu is rounded out by a handful of local and Italian beers, including Moretti and Peroni on tap. 
The Space
Amano Trattoria's roomy dining area centres on a glittering, gold-fringed main bar. 
Exposed overhead piping, dark wood furniture and brick accent walls lend an industrial feel, which is balanced by floral artwork and a colourful mural featuring Italian actress Sophia Loren. 
The front window of the restaurant offers a cozy corner dining space that can also be curtained off when needed as a private dining area. The buzzy dining room was a long time coming, with Angeloni noting that Open Concept Hospitality acquired the space just before the pandemic forced restaurants to shut down. "It's been two years of takeout and now it's finally time," says Angeloni. "It's been good."
Amano Trattoria is located at 9 Church St. You can stop by Amano Trattoria Tuesday to Thursday from 4 p.m. to 10 p.m., and Friday and Saturday from 4 p.m. to 11 p.m.
Words and photos by Jessica Huras