A Toronto landmark, The Drake Hotel, recently opened its new modern wing on Dec. 1.
The new building marks the evolution of The Drake with 32 additional guest rooms, a bold new art collection, an intimate Queen Street West-facing bar, and a stunningly appointed lobby. Heightening the thought-provoking art, design, and cultural elements the property is renowned for, The Drake Hotel's modern wing is a vibrant five-story contemporary building, which adjoins the original.
The Drake's in-house design and art curation team—in collaboration with Diamond Schmitt Architects and DesignAgency—developed the modern wing's spaces to be welcoming and unique, with warm tones, patterns, and local artistry bringing together the design.
Reflecting the evolution of The Drake brand, the modern wing is being dubbed the wing that is "all grown up." Paying homage to the original branding, the environment remains texturally rich and playful, with a more grown-up, contemporary twist. Each and every piece of art plays a role in this reimagining, with details that not only bring together the design but add to the comfort of the stay.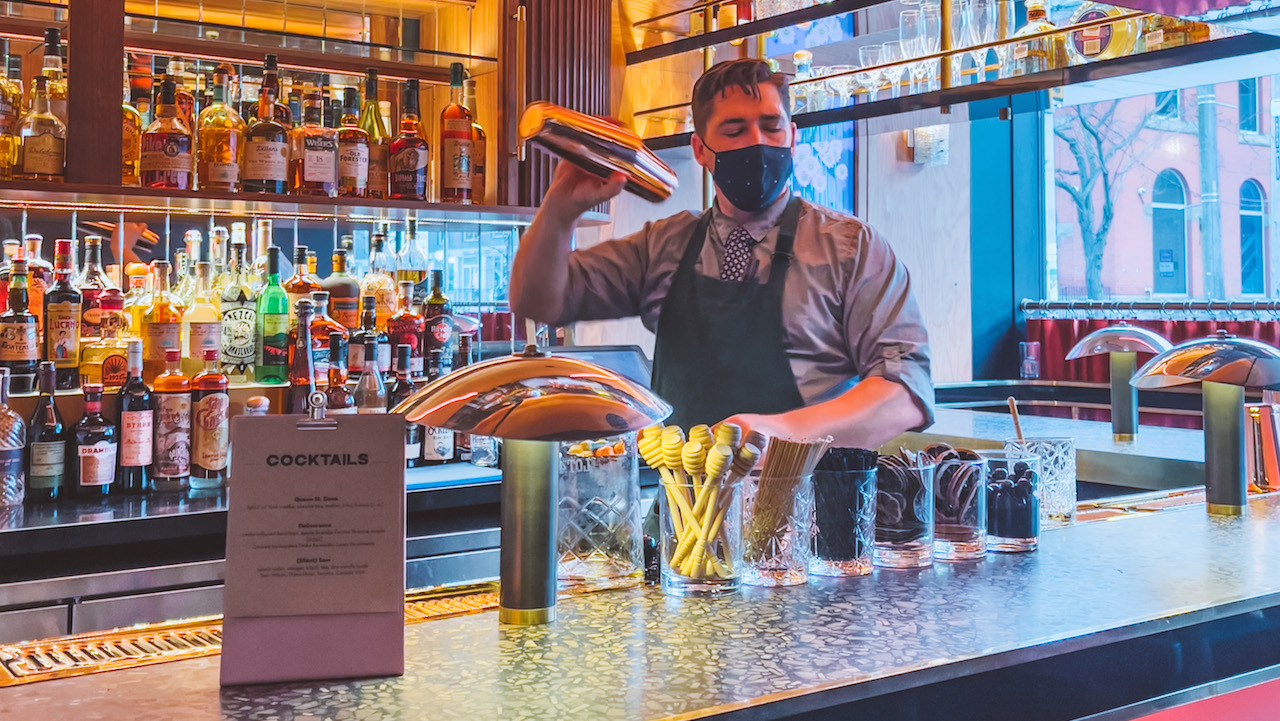 The hotel's new features, including a polished steel boxcar-inspired rooftop suite with a beautiful terrace, a reimagined lobby with space for people to gather, work, and sip on cocktails from the lobby bar, and an interior courtyard perfect for mixing and mingling, are all connected directly to the existing amenities and spaces of the classic wing in the flagship building.
To add to said comfort, incredible room service and mini-bar selections are made available in each room, including local offerings and The Drake products alike.
Back in August, The Drake appointed Laura Maxwell as the establishment's Executive Chef. Inspired by Toronto's dynamic culinary scene, Executive Chef Maxwell is making her mark on Queen Street West with her new menu. By bringing locally sourced and sustainable ingredients to her plates, she's elevating the food in a diverse yet local way. She says, "what's equally fun is that we're not sticking to a particular region or cuisine, so I'm able to incorporate not only the diversity of the city but influences from my personal travels around the world."
The hotel offers incredible room service options from her new menu, including sushi—a favourite that was recently brought back to the menu. 
"It has always been our hope to create a neighbourhood hub rooted in our local community and to bridge the art of the moment with intentional hospitality," says Shaileen Shah, General Manager of The Drake Hotel. "At its core, we want to ignite curiosity within both the modern traveller and our friends – and our new spaces are designed for exactly that. We are excited to, at long last, open the doors of the Modern Wing and we certainly aspire to continue our longstanding tradition of welcoming world-class hospitality."