Trying to keep a secret in a city like Toronto is almost impossible. Case in point: these "secret" restaurants won't remain a secret for much longer.
Check out these six delicious eateries that are waiting to be discovered.
Figures
One minute your standing in a comic book shop and the next, you're walking through a hidden door into an eclectic dining room. Located in Yorkville at 137 Avenue Rd., Figures is an upscale resto-lounge that pays homage to superheroes and comics with decor and drinks inspired by everybody's favourite characters. The menu features sharing plates and larger-format dishes inspired by the seasons, while deliciously crafted cocktails like the Web Slinging Spider Hombre, the Poison Ivy and the Johnny Blaze will please even the most discerning palette. In the wee hours, the 2,000 square-foot space transforms into a lounge complete with a DJ.
à toi
King St. West eatery Coffee, Oysters and Champagne is pretty impressive. Along with — you guessed it — delicious coffee, plump oysters and an extensive list of bubbly — it's also the front to a hidden bar with an extensive menu that's designed to look like a hotel lobby bar from the 1920s. The story behind à toi is an interesting one. According to the website, it was named after a small boutique hotel that was built in the 1920s by French millionaire Antoine Mercer. While it was said to be a gift to the city of Toronto. But the choice of name — meaning 'to you' was really an inside joke between Antoine and his wife Isabel, as it was really his gift to her. Sadly, Antoine died of a heart attack during the hotel's construction and Isabel became fixated on the lobby bar that bears the hotel's name. Behind a display of champagne is a secret entrance into à toi where guests will feel like they've been transported to another time. On the menu is a curated selection of elevated European flare like mushroom croquettes, beef carpaccio, and tuna tartare. Later, patrons can take a whirl on the carousel, or indulge in champagne shooters & caviar bumps prepared by chef de cuisine Olivia Seymour.
Pastiche
"No signage, just a door open to the curious," reads the Instagram profile bio for Pastiche, a noshery located at 59 Ossington Ave. Open from "5:00pm to Who Cares" revelers are invited to step behind the red velvet curtains and into an exotic room filled with stained glass. It's an outlandish space where "norms are challenged." The blind tasting menu  is organized by category: farm (meat dishes), garden (plant-based) and shore (seafood). Cocktails are $15 a piece and include the barrel aged Nonna's Negroni, and Bramble On! made with gin and elder flower liquer .
Mira Restaurant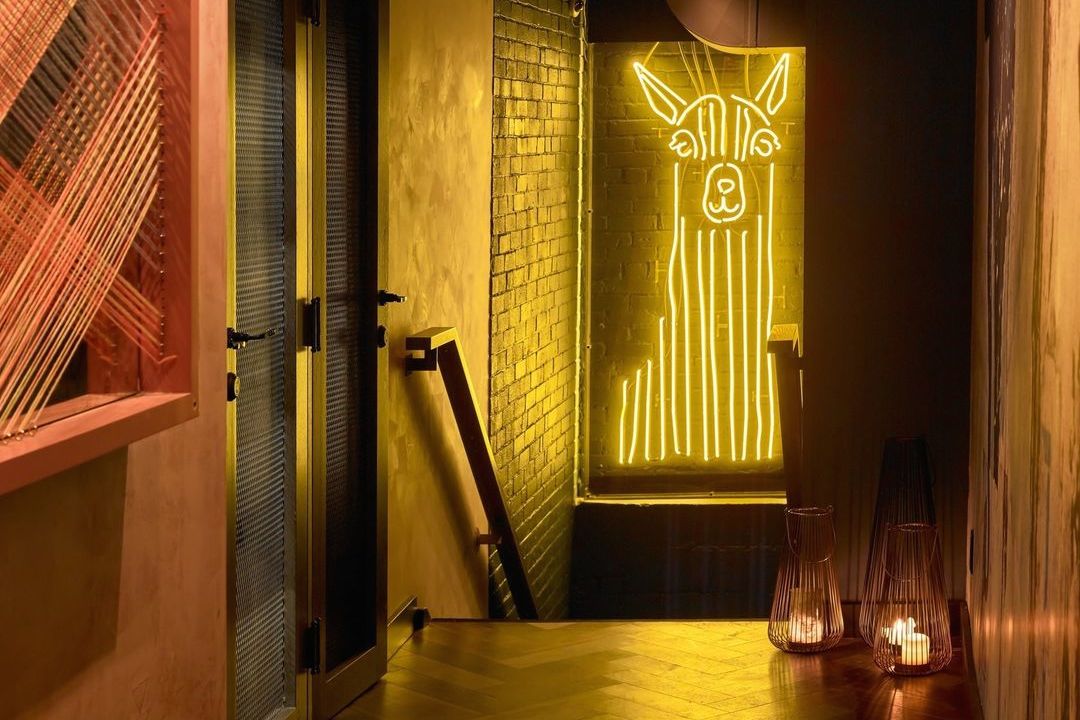 Just follow the lanterns down a set of stairs and you'll be transported to Mira, a hidden restaurant located at 420A Wellington St. W. Once you hit the neon llama (a motif that continues inside the restaurant's space) you'll be transported to a speakeasy in Peru, via Mira's tasteful decor and the bold flavours of its dishes. Small dishes like yucca frites, empanadas and ensalade de col reign supreme while delicious desserts including picarones, and the famous el huevo malo chocolate ball will have you coming back for more.
Vatican Gift Shop
Don't fall for the ploy of this Catholic themed gift shop. In reality, it's a hidden speakeasy from the team behind much loved dive bar Poor Romeo. The east-end haunt is serving up an array of cocktails and craft beer along with delicious Neapolitan-style pizza and live music to keep you entertained. The  "our daily bread" menu includes nine delicious pie options with holier than thou names like the Augustine and the Vatican 5.0, while Italian small plates inlcude arancini and an antipasti board or platter.
Mahjong Bar
Hidden in Toronto's Trinity Bellwoods neighbourhood behind a pink bodega, you'll find Mahjong Bar, a gorgeous 2,000 square-foot space serving up Chinese dishes and a bevvy of drinks. Enter through a keyhole-shaped door into a dimly lit space and enjoy a cocktail (or two) like the Rosemary's Baby or the Pirate Punch along with snacks like the steak tartare with crips, or kimchi fries.