Growing up, I used to love fairy tales of magical forests, tree houses and the friendly creatures that inhabited these green spaces. When I was old enough to walk, run and play, my favourite things to do were climbing trees, playing in tree forts and exploring forested areas. Now, as an adult, my love for our Earth's green landscape hasn't diminished but, rather, grown into a new appreciation. To relax, unwind and escape the busy city life, I find myself craving to retreat to the comfort of nature. Here, surrounded by tall trees, I feel a sense of serenity and my childhood curiosities come out to play.
Tree houses bring my childhood dreams to life — and, as an adult, that's about as magical of an experience as you can get.
With spring in the air and summer fast approaching, we're rounding up Ontario's best tree house experiences.
Cottage country with unbeatable sky-high views 
With beautiful fairy lights illuminating the forest at night, a cedar wood fire hot tub and a wraparound tree house deck, the Baltic — Luxury Treehouse at FORT Treehouse Co. in Minden is the epitome of glamping. Nestled away in the heart of cottage country, the Ontario tree house combines the creature comforts of a boutique hotel with a nest-like experience. The Haliburton Highlands' iconic evergreens and mixed hardwood forests offer the most awe-inspiring views, which can be taken in from any direction — even within the tree house, as windows surround on all sides.
This two-storey home away from home offers a kitchen with all the amenities, a comfy lounge area and open concept loft bedroom. The absolute pinnacle of forest bathing can be experienced two ways here: in the rain shower on the main floor or in the hot tub down below.
No matter the season, there are a ton of fun activities to do, whether you're looking to relax in the tree house or get out and explore the Minden area. A short drive will bring you to hiking, biking and cross country skiing trails; a river floating experience; lakes galore; and so much more.
Serenity by suspension bridge  
Only an hour and a half from Toronto, the wilderness retreat at Whispering Springs in Grafton houses a variety of exciting accommodation experiences, including the stunning treetop tents. Looking to elevate traditional camping and offer a new way of experiencing the great outdoors, Whispering Springs trades sleeping bags for king-sized beds, flashlights for mood lighting and canteens for wine glasses.
Sitting two storeys high among the treetops are three safari tents sharing a central common area with a barbecue, kitchenette, outdoor shower and private hot tub — all high above the forest floor.
Accessible by suspension bridges, this treetop experience is elevated off the ground, bringing about inspiring views of Whispering Springs' spring-fed pond and forest canopy.
"It's not quite Never Never Land, but it's pretty darn close," reads the website — and I can't help but agree.
Starry getaway where adventure awaits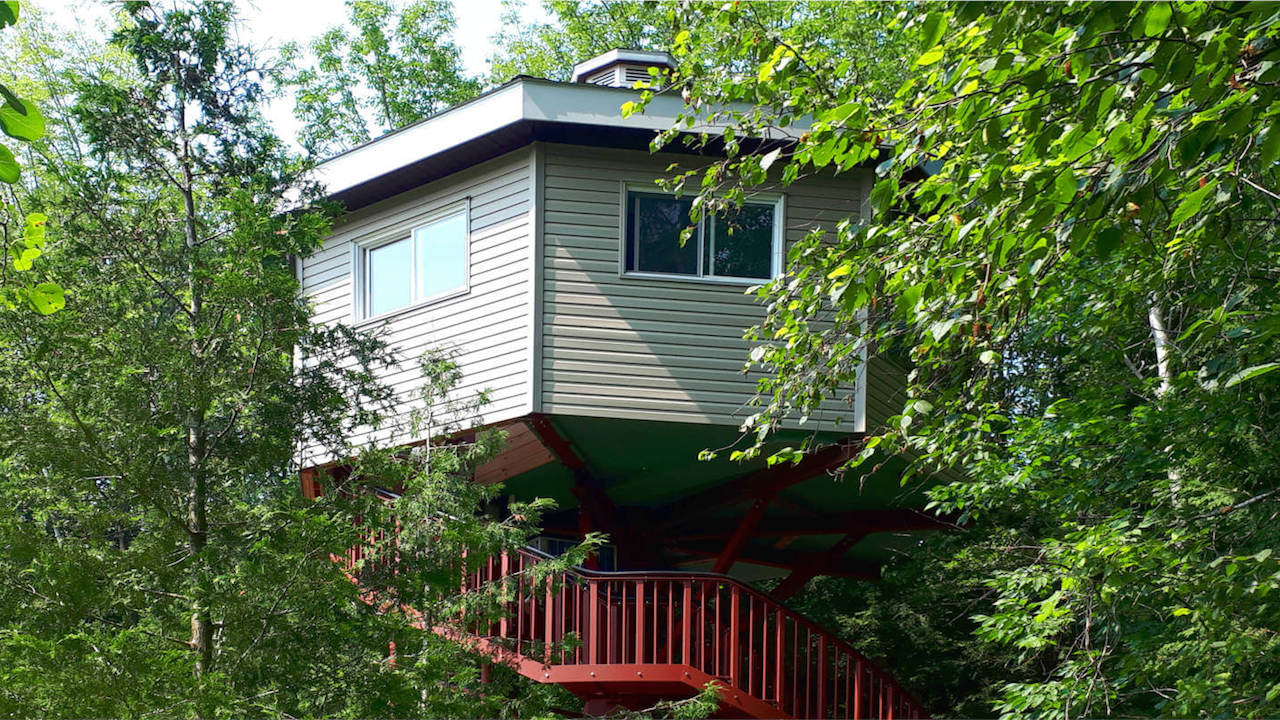 A spiral staircase leads you to Evergreen Forest's Treetop Suite in Tobermory and the coziness it offers. With beautiful forest views, this private suite is the perfect escape, tailor made for two. In case the 30-step climb wasn't high enough, hanging from the ceiling is the ultimate hideaway for sleeping — a suspended bed. You'll find another spiral staircase inside the suite, making it a truly whimsical treetop experience.
If you're lucky, you might book this stay during a night of clear skies — the site offers free telescope nights to take a look at all the stars, depending on the weather conditions.
Located on the Bruce Peninsula, this treetop experience is the perfect homebase for exploration. Heated in the winter and air-conditioned in the summer, whether you're looking to snowshoe the surrounding paths or swim the beautiful shores, when you retreat back to base, you're sure to be comfortable. Adventures await in the surrounding areas with Lion's Head Provincial Nature Reserve, Greg's Caves and Devil's Monument Loop only a short drive away.