In a city as fantastic as Toronto, you're never short on choices when it comes to eating out. In fact, there are so many new restaurants opening on the daily, that choosing where to go can be a daunting task. Whether you're in the mood for fine dining, a fun atmosphere or want to explore a new cuisine, you're sure to find it on our list of 25 new places to eat at in Toronto this summer.
1. Margo
Located on the 4th floor of private members' club Clio, in the heart of Toronto's King West neighbourhood, the reimagined, Margo, a mediterranean-inspired restaurant, is influenced by the diverse cultures, ingredients and flavours found along the Mediterranean Coast, from the Iberian Peninsula to the shores of Lebanon. Carefully curated by Executive Chef Marc Cheng (previously George, Patria, NAO Steakhouse and Kōst) and Chef de Cuisine Jo Castrinos (previously Splendido, Storeys, and Portland Variety), Margo's menu features an extensive seafood offering including dishes such as whole lobster linguine for two and grilled octopus, and mediterranean sea bass. From the land, guests will also be able to indulge in both traditional and modernized Mediterranean plates including a flaming table side Saganaki, locally sourced Ontario rack of lamb, and mushroom kosheri, an Egyptian Street food dish with shaved black truffles. 600 King St. W.
2. Crafty Ramen
A ramen spot made famous on CBC's hit show Dragon's Den now calls the trendy Ossington strip home for dine-in or pick-up. Swing by for "ramen, reimagined" with a menu that boats beautiful bowls of delicious noodle-based soup like the vegan Tokyo Salaryman with Sesame-Crusted Tofu or bold and flavourful Korean Fried Chicken. You may recognized the name from local grocery stores, which have done away with the instant noodle-style ramen – a staple of college dorm diets – and created a "heat and eat" frozen ramen for restaurant quality at home. 217 Ossington Ave.
3. Liberty Soho
Love King West's bustling Ruby Soho spot for its good music, fun vibes and delicious pub-style eats? Well Liberty Village locals can catch the same vibe at its new outpost, sister spot Liberty Soho. The menu is the same, with weekend brunch, happy hour deals weekdays from 3pm – 7pm and a late night menu that will take you from 10pm to late. Grab your friends for a round (or two) of drinks from their expansive cocktail, beer and wine menu. 139 East Liberty St.
4. Laylak
Laylak is a newly opened restaurant in downtown Toronto that emphasizes expert culinary techniques and authentic Lebanese dishes. Executive Chef Hazem Al Hamwi has created a menu that offers a range of authentic and Halal dishes from classic mezze plates to succulent grilled meats and seafoods. In addition, the menu features a selection of signature cocktails and an extensive wine list spotlighting both Lebanese and international brands. 25 Toronto St.
A celebrated, upscale steak house opens in Toronto today  by way of Vancouver, with plans to "bring excitement" to the downtown core. Black+Blue is a hip and bustling restaurant on Alberni Street, considered to be the Rodeo Drive of Vancouver, and is owned by the Glowbal Restaurant Group. Known for its modern takes on the classic steak house, chic carnivores have continued to descend upon the three-level space since it first opened more than a decade ago. The 9,000-square-foot two-storey space will also include a 2,000-square-foot patio.The menu features the crème de la crème of meats in- cluding A5 and Miyazaki wagyu, certified Kobe beef, as well as a premium selection of steaks that are aged in Black+Blue's salt cooler — the only restaurant in Canada that treats its meat in this style. Chef curated seafood options are also in abundance including selections of sushi. 130 King St. W. 647-368-8283
In November of 2019, the stylish restaurant, which first opened in Parkdale in 2012, was closed down after a three-alarm fire left the space unusable. Now it has rebuilt and is topping the best new restaurants list. Chantecler currently serves seafood, and large and small plates that all focus on French tradition, including a squash vol-au-vent, and steak tartar. With the expanded kitchen, Chantecler now serves baked bread and brioche and a full list of dessert items all made in-house. 798 Bloor Street W. 416-628-3586
Taline is a new restaurant that's focused on bringing the cuisine and experience of Armenia and Lebanon to Toronto. With a focus on Armenian dishes of the diaspora, Taline utilizes the produce, herbs and spices of the Middle East, mainly Lebanon. Standout dishes include a 40 day dry aged 24 oz rib steak and farouj, a charred flattened chicken.  The 80-seat restaurant covers two stories, with room available for private dining. The space itself is white and airy, whereas tones of olive, maroons and dark wood subtly replicate the colours of the region. 1276 Yonge St. 
8.New Retro
In the basement of Cabbagetown Izakaya, Zakkushi, you'll find a sweet little basement bar serving up extremely fresh fish, like red bream, cherry salmon and flounder, sashimi and regional dishes from Miyazaki — chef Toni's hometown. The drink menu is equally sublime with  Genshu sake, Japanese beer like Asahi and Japanese whiskey,  too. 193 Carlton St.
Last week, the folks over in midtown were treated to the opening of an exciting new eatery by the Israeli chef behind one of Toronto's best Middle Eastern restaurants — Parallel. Called Romi's Bakery, Tomer Makovitz's new venture is offering a little bit of everything. Despite its name, Romi's Bakery provides more than baked goods. Markovitz describes it as a bakery, storefront, market, and café. From challah, Jerusalem bagels, and babkas, to cookies, crackers, and the more savoury sandwiches, baba ghanoush, and falafel bowls, Romi's has it all. 744 St. Clair Avenue W.
10. Bar Habana
There's a new speakeasy-ish Cuban cocktail and rum bar on Ossington! At the back of La Cubana, you" find Bar Habana with is shaking things up in the best way thanks to talented mixologist Josh who's been hard at work creating new Cuban-inspired cocktails like the Carajillo Affogato — a deliciouslly decadent  dessert cocktail and the smokey, rich and bold old baracoa. On the menu you'l find a delicious array of Cuban pressed sandwiches and empanadas. 92 Ossington Ave.
Husband-and-wife owners Andy Su and Jane Yu opened Yunnan Noodle Shack last week and it's Toronto's first solo dining restaurants.. Everything about the restaurant, from its concept to the menu and even its name was inspired by Su's hometown of Kunming in China's southwestern province of Yunnan. The items that dominate the menu most are dishes from Kunming: the rice noodles, which, Su says, are a common "fast-food" type of meal popular anytime of day; and the chilli peppers that are actually picked directly from the mountains of Yunnan and Kuaizhou.Su says he and Yu are currently working on developing blind boxes to place on each booth. The boxes will include an experience guide to explain some of the symbolism and characters found throughout the restaurant. "Everything is designed for a purpose." 43 Baldwin St.
12. CKB
Helmed by Toronto-based Chef Toronto based chef Dave Brace who brings over two decades of experience running Italian kitchens. The result is CKB: a modern culinary selection that features a rotating menu in a refined yet unpretentious atmosphere. Opt for dishes like fried chicken thighs with potato puree, Swiss chard and celery remoulade or select more traditional Italian fare like baked polenta with sausage ragu and pistachio pesto. There is also a succinct but sure-to-please wine and cocktail menu that offers everything from bubbly to bourbon. 391 Roncesvalles Ave.
13. Kiin Cafe
Experience a different side of Thai cuisine with traditional Thai breakfast and lunch staples, fresh coffee, and fried-to-order mini doughnuts! Brought to you by award winning chef Nuit and Jeff Regular,  the duo have opened Kiin Cafe inside of their superb flagship restaurant Kiin. On the menu, you'll find breakfast options like the Khai Kratha comprised of  two thai-style pan-fried eggs with chinese sausage, vietnamese sausage, ground chicken, green onions, coriander, red chilli, and fried garlic; served with patong gho (thai crullers), noodles, as well as an abundance of rice and noodle dishes. 326 Adelaide
14. Industry Snack Bar
With a focus on international tapas and great cocktails, Industry Snack Bar located in Koreatown is churning out a boatload of delicious shareable dishes like Korean crispy calamari ($16), pata negra Iberia ham ($20) and Brazilian steak frites ($26). On Tuesdays, chef Tiago Pablo is whipping up endless tacos and weekend brunch includes bottomless mimosas.  594 Bloor St. W. 416- 746-8646
15. Tinga Kim Taqueria
For a truly authentic Mexican experience, Tinga Kim Taqueria On Queen Street East is your latest spot for the finest Mexican fare including crispy and soft taco plates, guacamole and elotes. The eatery also boasts an impressive drinks menu with inventive cocktails like the boozy and floral Old Eden made with chamomile infused fin, elderflower and pear. 1182 Queen St. E.
INK Entertainment Group and Harlo Entertainment have joined forces to open a new luxurious supper club just in time for the summer. Guests can dine in the main seating area called the Ochre Room, and sip cocktails on cozy chairs and sofas, while surrounded by dramatic gold décor and a custom-made, chainlink chandelier that expands the entire ceiling above. Or, diners can alternatively order a cocktail from the dimly lit cove of the Onyx Bar or enjoy their drinks al fresco from the New York-esque terrace that offers views of the city. Ultra opens on June 6. 12 St. Clair Ave E.
17. Dia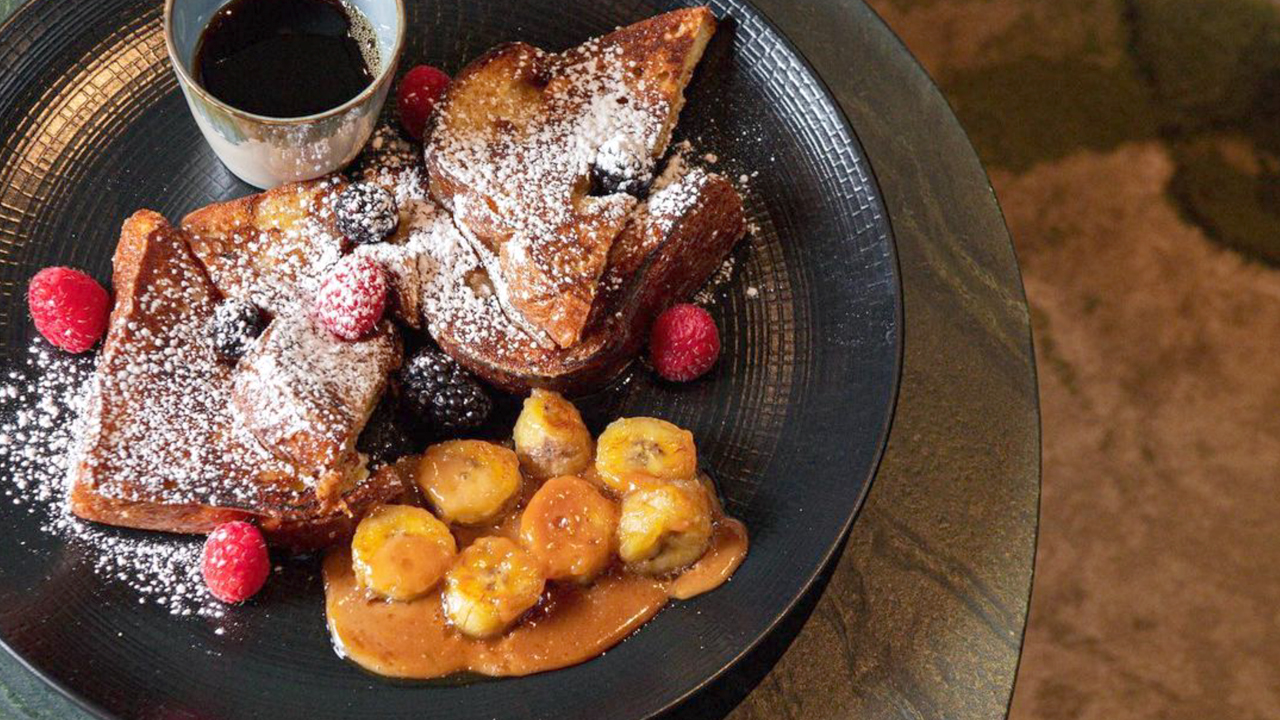 Día restaurant offers a warm, open space for its guests to dine from crafted brunch, lunch and dinner menus, a speciality wine list and a creative cocktail menu.Chef Justin Raponi, Día's executive chef and lead culinary enthusiast, is behind the inventive menu, which highlights his vast experience in Italian cuisine with small plates, Roman-style pizzas and decadent pastas. Located on Canopy Hotel Yorkville's second floor, Día Restaurant comes mere months after the hotel's arrival, which has been touted as one of Toronto's most anticipated luxury hotel openings of the year. 387 Bloor St. E.
18. El Maé
Promising the "ultimate taste" of Costa Rican cuisine, chef Paul Sanchez has conceptualized a menu of traditional dishes like Gallo pinto, a classic dish of rice and beans, Casado, a platter featuring cuts of tender meats, plantains, and flavourful sides as well as five different ceviches, including fish, shrimp, green plantain, mango and heart of palm. The restaurant is located  inside the charming Latin food court La Tienda.  1165 St. Clair Ave. W.
After much success with some of the city's most beloved eateries, including Gusto 101, Gusto 501, Trattoria Nervosa and Chubby's Jamaican Kitchen, the Gusto 54 Restaurant Group has added yet another Italian eatery to its lineup. Zuzu, located in Toronto's Regent Park community, was born as a nod to Gusto's humble beginnings and Janet Zuccarini's father, Giacomo, who brought the first Italian espresso machine to Canada. On the menu, diners can expect to find classic Italian cuisine but with a modern twist. Much like in Italy, it's characterized by antipasti, salate, primi, pasta, secondi, and dolci.  555 Dundas St. E
A few months ago, Victor Ugwuek took his eatery from a pop-up to a brick-and-mortar restaurant in the west end. Now, Parkdale is home to some of the best West African eats in the city, thanks to Afrobeat Kitchen. Ugwuek's widely popular recipes range from Nigerian jollof to Buka beef to oxtail pepper soup, each crafted with a fusion twist, which is inspired by his own upbringing in Lagos, Nigeria, where his mother owned restaurants. 1510 Queen St. W.
Head downtown to Lao Lao Bar for authentic Lao hospitality in a vibrant and transformative environment serving delicious small plates. The shareable menu is designed to reinterpret the owner's memories of home by providing a Toronto spin. Bold flavours and unique flavour combinations are the focus here with fresh and exciting dishes up for grabs including Som Tum Tod, a fried papaya salad with palm sugar, fish sauce, chili pepper, lime, mint, peanuts, shallots and bell peppers or Satay Chicken made flavourful with turmeric, coconut milk, served with peanut sauce, and a shallot cucumber vinaigrette.  5 St. Joseph St. Unit 5

22. Chick Wings
If you love all things chicken wings at new Queen St. E eatery  Chick Wings you'll find more than 25 flavoured sauces including Caribbean jerk, BBQ burning hot and Parmesan ranch as well as dry rubbed options including Cajun dust, lemon pepper and mango habanero. On the menu you'll also find a selection of burgers including prime rib as well as entrees including chicken skewers, New York striploin steak and salmon. 689 Queen St. E.
Little Italy's new spot, Casa Paco, backed by Chef Rob Bragagnolo of Labora, Carver and Marben is a haven for Mediterranean cuisine influence by the tastes of Spain and Italy. Come for the extensive seafood options, like prawns in sherry and olive oil or opt for a warm and hearty paella. Or try Chef Bragagnolo's Pasticcio di Funghi, a family recipe passed down for generations that features a delicate layering of crêpes, seasonal mushrooms, porcini béchamel & black truffle. Wash it down with expertly crafted drinks, like "Death In Exile," a refreshing mix of Brandy, mint liqueur, absinthe, sparkling wine and lime. 50c Clinton St.
 Trinity Market has been described as a "fun, busy market and wine bar in Paris."  ​ The shop encompasses a few different concepts, including a bottle shop, showcasing wines, beer, cider, sake and spirits with plans for weekly tastings and events. It's also a cafe by day and a snack and wine bar at night with bites from Gaucho Empanadas, Primrose bagels, BlackBird Bakery and Pearl Diver Seafood on offer.768 Queen St.W. 416- 557-1086
25. Sarang Kitchen
Sarang Kitchen
is a new "social enterprise" Korean restaurant based in Toronto, with a mission to "break down the employment barriers faced by the neurodivergent community."  The restaurant provides sensory boxes with fingers, weighted blankets and noise-cancelling headphones as well as a multi-sensory room for guests to relax in if they are feeling overstimulated or anxious. On the menu, crispy halal fried chicken, K snacks like seaweed rolls and cheese K-dogs and party platters. They also follow a Hospitality Included (HI) model, joining the growing list of Toronto restaurants that embrace a no-tip policy. 
1056 Bloor St. W. 416- 533-1120