Curating an effortless wardrobe is a task that takes time and persistence. For some, it takes years to finally piece together a closet full of clothing that you can genuinely say you adore. However, that may take hundreds and hundreds of dollars and time that you may not have. Enter the capsule wardrobe trend: A timeless 8-10 piece collection of clothing gathered over time and worn with the goal of eventually creating a wardrobe that works seamlessly together.
Some of the other perks are include removing the decision fatigue that you may experience when getting dressed and opting out of the excessive consumerism of fast fashion and constantly cycling trends. For a seasonal 8-10 piece wardrobe, it breaks down to two to three shoes, two to three pairs of pants, three tops and two to three pieces of outerwear. 
Below you can find a sample 10-piece collection that moves away from the general minimalist aesthetic that most creators piece together. All of the garments can be purchased at boutiques in the city and are unique to the Toronto aesthetic.
Shoes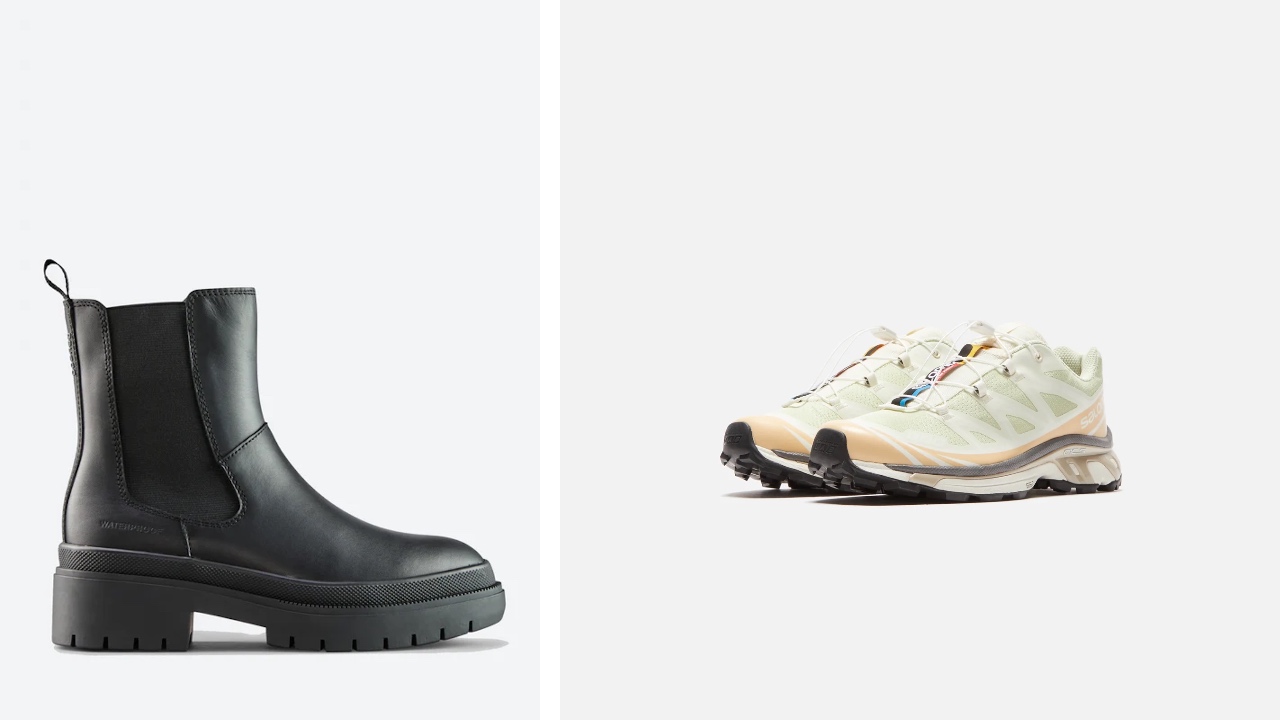 For a fall capsule, a dressed-up boot and athletic sneaker is ideal. The Cougar Swinton from Gravity Pope is a waterproof, elevated take on the classic Chelsea boot. The rounded toe makes for a more relaxed aesthetic which will sit well under pants. It can be purchased in cream or black, but the latter is recommended in order to easily keep them clean.
The Salomon XT-6 is an obvious choice for sneakers. With its sleek silhouette coupled with an all-terrain sole, that makes it a terrific choice to be worn out and about in Toronto. The aloe wash colourway from KITH caught our eye and would contrast well with the black Swinton boot. 
Bottoms
Pants can make or break your outfit and in this instance, your bottoms are here to take a back seat role. The first admission into your capsule wardrobe can be a pair of dark-wash blue jeans. Check out Good Neighbour for a vast selection of high quality jeans in every shape and style, but we recommend a straight leg fit for the most versatility. Like a vintage car, your jeans may patina perfectly and evolve with age as they grow with your wardrobe.
The next pair is a beige pleated trouser from Uniqlo. The Japanese brand's quality varies from piece to piece, but as long as you care for them, their pants will have some longevity. These particular trousers are a bit of a wider fit than the jeans, offering comfort and a more relaxed look. If you've got a looser budget, head to Blue Button Shop, Toronto's best spot for Japanese fashion, where you'll find a whole selection of super cool trousers — like these cotton ones, these classic plaid ones, these amazing jacquard pants and these wide leg paper bag ones. 
Finally, your show-stopping pants are a pair of lethal trousers. Trinity Gallery has a pair of vegan leather trousers that will sit over or cuffed just above both of your shoe options at an affordable price. Leather pants are a trend in the womenswear department that has stayed surprisingly popular as the years go on and will likely stay there for the foreseeable future. 
Tops
Picking fall tops can be quite difficult and depends a lot on your lifestyle. Someone who frequents Paris Texas on a Friday night will likely want something different to the person at a jazz club, or their own house wrapped up in a blanket with a glass of wine.
However, everyone needs a t-shirt. Kotn has a little '90s T-shirt that will suit the aesthetic of all three pants. Paper white is a good colour selection as the focus of this capsule is to have the materials do the talking. If a tighter top isn't your style, Kotn is Toronto's go-to for basics, so you can opt for the essential crew or the box crew. 
Next up is a cable knit sweater. Having something warm that exudes timelessness is one of the key features of the capsule wardrobe. A good first investment would be the Aran knit from Cuileann, found at Irish Design House. Feel free to play around with thicknesses as you shop but the Aran is a terrific baseline for people experiencing Toronto weather.
Finally, a long-sleeved body suit will merge all three tops into a trifecta that can't be stopped. Wool is capable of elevating any piece of clothing due to its intricate weaving and Banana Republic has a '90s-inspired one. If money is no object, Woolfords has a simple cotton one that will go with anything not matter which colour you choose. 
Outerwear
Jackets and outerwear are fundamentally designed to be brilliant. They're rarely worn indoors and are the most seen piece when outside. Why not show off your personality a little?
Dorian Who is an eclectic designer from Toronto who has created some jaw-dropping garments. Her green and white varsity jacket is a cool investment piece for those who want to turn their outfit more streetwear — and the oversized style can be great for layering. The patterns adorning the midsection is a conversation starter to say the least, and her quality is unmatched.
On the flip side, Hilary MacMillan does formal well and puts her own spin on classic designs. This particular jacket is a snakeskin trench coat made to elevate your most relaxed outfits. For a less neutral trench, this two-tone one also from Hilary MacMillan will do the trick of adding some colour to even the most basic look.